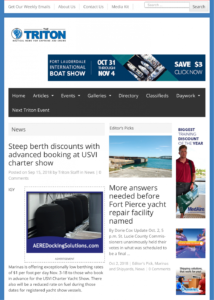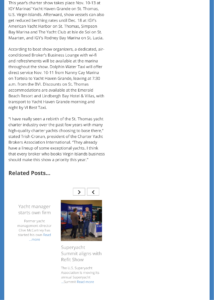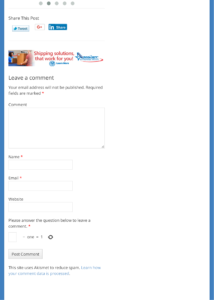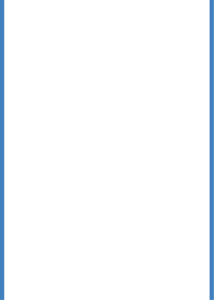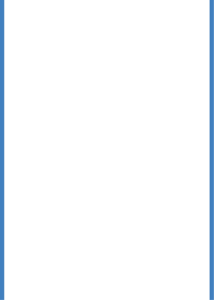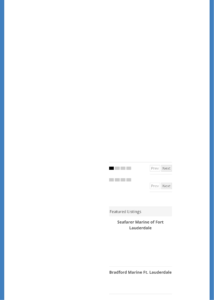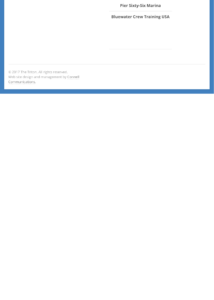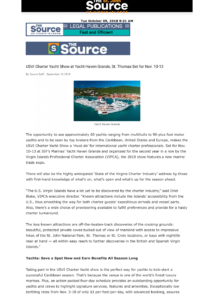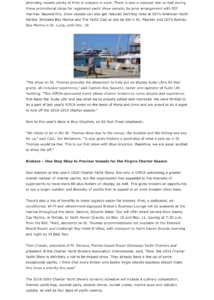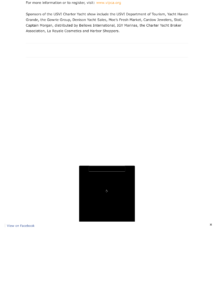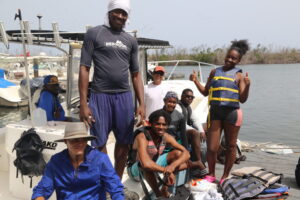 https://youtu.be/bRdpQ_qDI1c
Marine Rebuild Fund has organized seven 18-23 year old Virgin Islands youth to participate in a 6 week marine training to provide them entry level experiences in all aspects of the marine industry with a view to mentor them into a marine career. The first week was spent learning to sail out of St Thomas Yacht Club, paying a basic non-profit stipend for the use of their vessels and instructor. Thereafter they have learnt powerboating on a Mako 35″ and Pershing 64″, Navigation, Rules of the Road, CPR and First Aid, Boating Safey, Marinas and Dock Management, Boat yards and hauling vessels, Swimming, SCUBA diving, Diesel Engine Maintenance, Charter vessel preventative maintenance, How to be a US Coast Guard… and operating a charter vessel with passengers with our parntership with Cruise Ship Excursions.
Thursday 14 June, 2018
Presentation given by Executive Director, Oriel Blake
Virgin Islands Professional Charter Association (VIPCA)
The Marine Charter Industry: It's Resiliency after a Natural Disaster.
A Few Facts:
The U.S. Virgin Islands is a territory of islands with a large marine environment
We are dependent on tourism for economic stability and strength
Tourists visit the USVI because of our waters and all the activities and opportunities to explore and enjoy the warm water of our beaches and reefs, snorkelling, diving, boating, fishing, etc. Tourists also use ferries and water taxis to transit to neighbouring islands.
The marine charter industry was quickest to recover after the 2017 hurricanes. It maintained employment of nearly all of its captains, crew, marina staff, marine maintenance and marine services staff and kept driving business through the airport, taxis, restaurants, and supermarkets and beverage distributers.
Let me ask you a question:
Does the USVI want diversified interesting attractions for its visitors?
To keep interest in the USVI while the other facets of tourism recover, we need to focus on strengthening the marine industry that is already up and running.
So many are not aware of the affordability of an all-inclusive week charter and the appeal of the cruising grounds right here in the USVI as an alternative to a hotel, villa or resort vacation. The Department of Tourism should be spending money normally used to promote hotels instead promoting the marine industry which is already up and running with 145 day charter vessels and 129 week charter vessels.
Marine tourism industries offer the most immediate expansion possibilities — and it is quickly expandable. 2017-18 Season's annual revenue made by day and week charter boats alone (uninspected vessels only and not including the x20 inspected day charter boats which run cruise ship excursions) is over $50 million dollars. This could easily be doubled had we not had the losses of charters as a cause of the 2017 hurricanes.
We need to draw more boats to the area and can facilitate that by:
Convenient air travel for charter guests (Make it easy to get here!)
Streamlining the movements into and out of the Territory by improving Customs facilities on both the East and West ends of St. Thomas, St. John and St. Croix and improve visa allowances for visiting yacht crew to permit them to work during their foreign vessel's visit to the USVI.
Promote the charter industry and other marine tourism through advertising and targeted marketing initiatives selling the USVI as a base of its own as opposed to as a gateway to the BVIs. Inform international press and travel agencies that the USVI has recovered its former natural beauty since the 2017 hurricanes.
Promote alternatives to cruise ships and hotels!

While cruise ships are important to the islands, many people want a more "upscale" alternative to cruise ships. The glamour and prestige of cruise ship travel has diminished and cruise ship passengers spend increasingly less ashore.
While hotels are important to the islands, they are suffering a long recovery phase while the marine industry thrives with their self-sufficient ability to generate their own power and water and ability to accommodate tourists onboard for the duration of their vacation (no dependency on hotels).
Expenditure suggestions for the Hurricane Task Force:
Promoting charter trips exclusively in the USVIadvertising through DOT.
Greater focus and SEO in social media and press releasesfor the day and week charter, fishing and dive charter boats in the USVI through Dept of Tourisms. Focus on the charter possibilities present around our own anchorages:

John, Buck Island, Water Island, Hassel Island, Magen's Bay, Hull Bay, Great St. James and all STJ National Park Bays, Leymeshur and Coral Bay
Publish VI Still Nice Yachting video created by VIPCA

Promote the US NationalPark presence in the USVI and all of our US National Park anchorages. Advertise in forums that focus on travel to US National Parks.
Install transient mooringsin anchorages for visiting and resident yachts with the insistence that all moorings are vacated during hurricanes into a hurricane resilient facility such as a boat yard or in a secure tie-up in the mangroves.
Develop a state of the art marine haul out facilityand service boat yard to cater to charter vessels in low season and for hurricane tie-down protection. This would also facilitate prolonging the charter season since vessels would not be required to leave the hurricane belt for haul out during July-November.
Support DPNR Enforcementwith greater budget and staffing to police moorings to determine that all are permitted, paid for and maintained.
Enforce a hurricane plan to be utilised by all vesselsin the USVI, fineable if not complied with, preventing any vessel from breaking adrift from the mooring.
Enforce a rule insisting thatall vessels left in the water during hurricane season must carry yacht insurance. It should not be government money paying for vessel salvage and damage caused by private vessels grounding.
Improve Customs facilities in the USVIto welcome more visiting yachts and to handle theexisting traffic of both charter vessels and ferries. There should be facilities in the East and West of STT, STJ and STX capable of handling both ferries and charter vessels.
Longer Term Goals:
Create better marine accessible venues that will attract tourists
WATERFRONT BARS WITH BEACHES. The Govt should do whatever it can to help promote the growth of those businesses and to support accessibility of beach bars to charter vessels and their dinghies.
Develop Coral Bayto promote marine tourism with beach bars, customs
Rejuvenate Red Hook 
Rejuvenate Benner Bay
Rejuvenate Charlotte Amalie Waterfront opening a town quay access to vessels
U.S. Customs and Border Protection clearance at VIPA's seaports in St. John has been a major challenge since the hurricanes last September because most of VIPA's marine facilities in Cruz Bay were destroyed.  However, temporary arrangements have been made to bring some relief to mariners. Starting on the week of June 4, Customs will clear pleasure-craft vessels at the Victor Sewer Marine Facility (The Creek) in Cruz Bay.
VIPA's board also approved the construction of a temporary U.S. Customs checkpoint inside the Urman Fredericks Marine Terminal in Red Hook, St. Thomas to provide screening for foreign arrival passenger ferries. This project was delayed due to issues with a previous contractor. VIPA has since re-bid the project and received the bids on May 18. Construction will take four weeks to complete and the temporary checkpoint should be operational by July 2018. All foreign arrival passenger ferries will continue to clear Customs at the Edward Blyden Marine terminal in St. Thomas until the temporary checkpoint at the Red Hook terminal is built.
Other ongoing VIPA port improvement projects include:
The two-level parking garage at the Urman Fredericks Terminal in Red Hook is expected to be completed by August 2018.
Designs for a new air cargo facility at HERA and a new marine terminal building for the Containerport on St. Croix have been submitted to VIPA for review.
VIPA is working closely with the US Army Corps of Engineers to determine when the permit for the dredging of the Schooner Bay Channel will be issued. This dredging will allow mini-cruise and other luxury vessels to berth at Gallows Bay in Christiansted, St. Croix.
The Port Authority has applied to the Department of Planning and Natural Resources' Coastal Zone Management Commission to dredge approximately 232,000 cubic yards of material from the Charlotte Amalie Harbor. This dredging will be funded by federal monies obtained by the Government of the Virgin Islands and will allow Oasis-class vessels to berth at the West Indian Company Dock in Havensight, St. Thomas.
For more information about VIPA's hurricane recovery, please contact the Port Authority's public information officer at 340-774-1629 or info@viport.com.
FOR IMMEDIATE RELEASE
May 16, 2018
U.S. Virgin Islands Finishes Strong Charter Season
St. Thomas, U.S. Virgin Islands. The charter yacht industry in the U.S. Virgin Islands is experiencing one of its strongest seasons despite a slow start following major hurricanes last September. More specifically, limited damage to the marine environment, a nimble boutique-style industry whose vessels were quickly ready for business and swift infrastructure assistance from the federal government underscored the U.S. territory's 'hidden gem' of a reputation as one of the best charter destinations in the world.
Photo: Lovango Cay/Credit: Steve McCauley.
"The U.S. Virgin Islands is really showing itself as an ideal location for both day or week-long charters," says Oriel Blake, executive director of the Virgin Islands Professional Charter Association, Inc. (VIPCA), the territory's 501(c)(6) nonprofit charter association, whose purpose is to promote, protect and further the capabilities of charter yachts and the marine businesses that sustain them.
This sentiment is shared throughout the industry, both internationally as well as locally.
"The natural environment recovered quickly from the hurricanes, with an abundance of fresh foliage and flowers, pristine beaches, clear turquoise waters, and healthy reefs teaming with sea life." says Jessica Perraton-Jones, owner and charter yacht broker at The Charter Yacht Company, in Toronto, Canada.
Similarly, Brianne Beatty, founder and president of VINE Yachts, in St. Thomas, adds: "Now we have new vessels arriving, damaged vessels repaired and looking better than before and a vibe of resiliency and gratitude for all we have that is palpable and contagious."
The numbers paint a positive picture too. In fact, there was a 15 percent increase in charters and 32 percent expansion in the number of crewed yachts chartering from November 2017 to April 2018 compared to the same time the year prior and pre-hurricanes, based upon calculations on data supplied by two U.S. Virgin Islands-based clearinghouses.
Slow Start, Spectacular Finish
Concern over the state of the territory in the storm's aftermath on the part of charter brokers and clients alike meant a slow start to last fall's charter season. However, "once the brokers visited for the VIPCA Charter Yacht Show in November, were comfortable with what they saw and trusted the yacht's ability to offer a superb vacation, bookings started to flood in," explains Jamie Dee Han, captain aboard the term charter 52-foot catamaran, Island Hoppin. "Since February, we've been booked, often with three to four weeks of charter back-to-back. We've already had to close our books for this season, which for us is the end of July. We are already booked for more than half of the 2018-2019 charter season."
Photo: Abi Beach Bar/Credit: Steve McCauley
Similarly, a perfect Thanksgiving charter led to positive word of mouth advertising by the guests themselves and an overall uptick in bookings for the fourteen yachts managed by Paradise Yacht Management, based in Red Hook, St. Thomas. "One of the biggest misconceptions we had to overcome was the negative media about the island's destruction. In reality, the water was still blue, fish were swimming, bars and restaurants open and the multiple National Park trails on St. John were ready to hike, to name a few. Combined with the self-contained all-inclusive nature of a charter yacht vacation, those first guests post-storm had so much fun and they let others know," explains co-owner, Mike 'Hank' Hampton.
A Boutique-Style Industry
The charter industry in the U.S. Virgin Islands is characterized by small, agile, boutique-style operations, where customization and attention to detail are the prime selling point. This spans from a gluten-free menu to iconic water toys like a 12-foot floating pink flamingo and much more.
"Since we have only 11 yachts in our fleet, we're flexible and had everyone in the Southern Caribbean for hurricane season when the storms hit. As a result, none of our vessels had a scratch and all were ready to go right away when we brought them back north for this season," says Dare Blankenhorn, co-founder and director of Charter Caribe, based in Red Hook, St. Thomas.
Tailored charters took on a whole new meaning this season. Some operators offered multi-week charters, while others provided sampler or surf and turf trips that featured a few days on charter and few on land since shoreside accommodations were in short supply. Engagements, wedding and anniversary celebrations originally planned for the island's resorts were re-accommodated on a flotilla of crewed yachts to guests' delight. Ditto for business reward or incentive trips as well as professional continuing education excursions. These types of voyages are all part of the territory's industry's regular palette of customized charter choices.
No one charter route fits all, whether it's week or day charters, in the U.S. Virgin Islands.
"Whether we're enjoying a charter with a multi-generational family looking for quiet anchorages or a group of friends diving every second day and looking for beach bars we can make their vacation exactly what they dreamed of," says Luke Furnas, captain of the 60-foot catamaran, Dreamsong.
There are so many fantastic off-the-beaten track places to see and visit in the U.S. Virgin Islands, adds Charter Caribe's Blankenhorn. For example, "There's the undeveloped south side of St. John and Coral Bay as well as often uncrowded anchorages on St. Thomas, like Magens Bay. So much of the U.S. Virgin Islands is a National Park that trekking opportunities are excellent with incredible views. There's also yachting-oriented business developments right on the water now like floating pizza boats and beach bars."
Photo: Waterlemon Cay and Annaberg/Credit: Phil Blake.
On the day charter side, dive operators haven't felt limited post-storms and say there are plenty of spectacular scuba sites.
"There has been no dramatic change to our dive sites," says Wayne Brandt, retired owner of the Red Hook Dive Center, who continues to work with current owners, Susan and Dan Dudley. "In fact, the U.S. Virgin Islands' specialize in small group dives which means we can continually check out new places others don't normally go and thus give visitors as much variety as possible."
Likewise, partial-day, full-day and sunset charter operators, such as Staci Kosik, owner operator of Sweet Pea Catamaran charters adds, "The guests we have had are all raving about what a wonderful time they are having and the fact that it's less crowded here and much more relaxing as well as being as beautiful as always."
Finally, what makes the U.S. Virgin Islands such a spectacular charter destination is its best kept secret personality. It's easy to fly in; no passport is required for U.S. citizens. There's an opportunity to explore virgin anchorages while visiting great beach restaurants and bars, fine shops, museums and more ashore, and best of all, a fleet of amazing yachts and crews to open this world to you. For more information on the U.S. Virgin Islands charter industry, visit: www.vipca.org
Suggested Sample 7-Night, 8-Day U.S. Virgin Islands Charter Itinerary
*Charter starts and finishes at Yacht Haven Grande Marina, St. Thomas
Day 1
Lunch: Frenchman Bay, St. Thomas (STT) (ABI Beach Bar)
Night: Maho Bay, St. John (STJ)
Day 2
Lunch: Waterlemon Cay, STJ (Hike Annaberg Plantation/snorkel)
Night: Coral Bay, STJ
Day 3
Lunch: Lameshur Bay, STJ (Hike Rams Head/snorkel)
Night: Salt Pond, STJ
Day 4
Lunch: Honeymoon Bay by dinghy, STJ (Hike Caneel to Cruz Bay for shopping)
Night: Caneel Bay to dingy into Cruz Bay, STJ (restaurants and night life)
Day 5
Lunch: Christmas Cove, STT (Pizza Pi/snorkel)
OR
Lunch: Lovango Cay, STT (snorkel)
Night: Magen's Bay, STT (watersports)
Day 6
Lunch: Mermaid's Chair, STT (snorkel)
Night: Brewer's Bay, STT (night dive Flat Cay)
Day 7
Lunch: Flat Cay, STT (snorkel/dive Miss Opportunity wreck)
Night: Honeymoon Beach, Water Island (beach bar)
OR
Night: Buck Island, STT (snorkel with turtles)
Day 8
Yacht Haven Grande, STT