Marine and charter boat businesses who join the USVI Hotel and Tourism Association will now also benefit from being a member of the Virgin Islands Professional Charter Association. USVIHTA is pleased to announce its partnership with VIPCA which requires marine and charter boat allied member applicants to be a member of both organizations and be in good standing with VIPCA prior to joining USVIHTA.
"VIPCA is thrilled to have partnered with the USVI Hotel and Tourism Association. This joining of the two facets of tourism, land and sea, is long overdue for a territory consisting of both! It is exciting for everyone to see the marine industry flourish since IrMaria. The combination of USVIHTA and VIPCA membership provides the foundation for charter business's advertising and advocacy needs with the stamp of compliance conformity," said VIPCA Executive Director Oriel Blake.
The decision to enter specific marine applicants into a dual membership came after USVIHTA held a membership meeting in conjunction with the 2018-2019 Day Charter Conference where they were able to see the benefits of a solid partnership with VIPCA and the marine industry. Members who join both associations will also benefit from reduced dues for the dual membership. USVIHTA applicants who qualify for the dual membership will pay $200 as opposed to $250 (increasing to $299 on Jan. 1, 2019), and VIPCA dues will be $200 as opposed to $300. Applicants must be a member of VIPCA to join USVIHTA. Click here to download the marine membership form for USVIHTA.
"USVIHTA has always embraced our diverse tourism product which allows visitors to enjoy a variety of land and water activities. Our partnership with VIPCA will work to strengthen our marine product and help both organizations to provide more resources and benefits for our members," said USVIHTA President Lisa Hamilton.
VIPCA is the territory's only 501(c)(6) nonprofit marine association, whose purpose is to promote, protect and further the capabilities of charter yachts and the marine businesses that sustain them. To be a member with VIPCA, vessels must be compliant with specific legal requirements. VIPCA is working with U.S. Customs and Border Protection and the U.S. Coast Guard to further support this.
Joining VIPCA is also a great way to stay informed within the charter community, and to be part of the marine industry's voice. VIPCA advertises its member's business while furthering and boosting charters each season and supporting the USVI marine industry as a whole. There are currently over 100 vessel members benefitting from VIPCA's non-profit services including advertising, access to discounted hull and P&I fleet yacht insurance, and discounts from various marine chandleries, vendors and marinas. A membership with VIPCA also announces that a vessel operates within compliance.
VIPCA's industry partners supplying vessel member discounts include: American Yacht Harbour, Yacht Haven Grande, Crown Bay Marina, Puerto Del Rey Marina and Dry Dock plus 10 percent off fuel at Crown Bay and Yacht Haven Grande subject to berthing. Quantum Sails, Ocean Surfari, Budget Marine chandlery, National Marine chandlery, Offshore Marine chandlery, Parts and Power chandlery, Reefco Refrigeration, Tropicomm electrics, Albano Marine Survey, Sea Horse Water Taxi, Nautical Trips Consulting documentation services/surveys, Above and Below (Tow Boat US), Pure Imagination Farms, Sunrise Natural Provisioning, Mango Media and Erris Taxi Service.
Lisa Hamilton
USVIHTA President
340-774-6835
lisa@usvihta.com
www.usvihta.com
www.virgin-islands-hotels.com
FOR IMMEDIATE RELEASE
November 14, 2018
Brokers View Booming Charter Yacht Industry at USVI Charter Yacht Show – Largest Show in More than Two Decades
St. Thomas, U.S. Virgin Islands. Nearly 60 multihulls, monohulls and motor yachts lined the docks at IGY's Yacht Haven Grande on St. Thomas for the USVI Charter Yacht Show, held November 10 to 13, and hosted by the VI Professional Charter Association (VIPCA). Over 100 brokers from the Caribbean, U.S. and Europe toured the fleet, which ranged from 45- to 111-foot in length. This made the 2018 show the largest in well over two decades in terms of the number of yachts showing, brokers in attendance and yacht size combined. This striking fact certainly shows that the U.S. territory's charter industry is booming. It's a theme played out on several fronts such as the boutique nature of the industry, virgin cruising grounds and the territory's public and private sector investments in assuring the success of the marine tourism industry.
"Marine tourism is on the increase in the U.S. Virgin Islands," says Joyce Dore-Griffin, assistant commissioner of the Department of Tourism. "We are proud to have crewed yacht charters as part of our accommodations segment and the Department of Tourism is delighted to partner with the industry in promoting our spectacular cruising grounds."
A Boutique Industry with Something for Everyone
The boutique nature of the USVI's crewed charter industry is its prime selling point. Since every yacht has developed its own niche to compete, standards across the board are high.
"What we offer is the experience of a European-style hotel on the sea, with an emphasis on high-quality service," says chef Daniela Drescher, who with Capt. Bernd Forstner, are medical doctors from Austria who sold their flotilla of sailboats, purchased a brand-new Lagoon 52 they named Shangri La, and sailed from Bordeaux, France to the Caribbean in 2016. Starting this season, the couple will offer an optional health and wellness program that spans everything from morning yoga and meditation to healthful meals with culinary instruction and medical monitoring like blood pressure checks.
On another tack, captain only charters are the niche aboard the Lagoon 44, Altitude Adjustment, with retired California police Sargent, Brian Saupe at the helm and in the kitchen.
"I cater to middle incomers by charting at bareboat or captain only rates, yet I do everything: drive the boat, cook and bartend," says Saupe, a life-long sailor who since childhood dreamed of living and working on a yacht. Now in his fourth charter season, Saupe purchased his current vessel in the aftermath of Hurricane Irma and subsequently completed 20 weeks of charter from January to June this year.
Multihulls dominated the USVI Charter Yacht Show fleet. However, the opportunity to charter a monohull was represented by Ocean Star, a Beneteau Oceanis 60 chartered by Hugh O'Brien and Ellen Davern.
"Our guests are sailors. They enjoy heeling over and going fast. Let's just say we can make it up to Anegada for lunch while the cats won't arrive there until dinner," says O'Brien, a former yacht racer who underscores Ocean Star isn't without its luxuries such as an ice maker, surround sound system and multiple paddle-boards.
The Lady Sharon Gale, a 111-foot Broward that underwent a $1.5 million refit in the last year, was the largest motor yacht on display.
"We're a bit of a dinosaur as a monohull as a large percent of the charter fleet today is catamarans, but I think the world need's dinosaurs," says Keith Hyatt, captain of the Lady Sharon Gale, which is based in St. Maarten, will relocate to Grenada for the next hurricane season, and spend much of this winter season chartering in the Virgin Islands.
Why the USVI – More of What You Want, Less of What You Don't
The USVI offers advantages to charter crews and clients alike that aren't found in other destinations.
"It's easy to fly into St. Thomas, plus there are many places to provision, obtain parts and complete repairs," says Shangri La's Drescher.
This full-service destination is one reason Jon and Kaitlyn Bellemare have based their 83-foot Prout catamaran, Blue Gryphon, in the USVI, specifically at Yacht Haven Grande this season. The couple and crew cast off from the yard in Belfast, Maine, at the end of October to sail south specifically to be part of the USVI Charter Yacht Show.
Additionally, anchorages in the USVI are truly virgin.
"Everyone wants to make a beeline to other islands, but that means missing so much in the U.S. Virgins. For example, I had a couple for a five-night charter who wanted seclusion. We went to Magens Bay the first night, then over to St. John's Lameshur, Leinster and Hawksnest Bays, and back to St. Thomas' Frenchman's Bay for the final night. They got their wish. We were the only boat every night in each of these anchorages," says Altitude Adjustment's Saupe.
The Spanish Virgin Islands (SVI), including Culebra and Vieques, are located a little over 20 miles to the west of St. Thomas.
"Unspoiled, uncrowded, natural. These are good ways to describe the anchorages and beautiful beaches on Puerto Rico's offshore islands," says Lady Sharon Gale's Hyatt.
VIPCA has been working in partnership with the U.S. Customs & Border Patrol agency to enable approximately 45 of its members, who have applied to have the freedom to charter with passengers in the SVI. The ruling is expected in the next few weeks.
Moorings & Manpower Investments
Public and private sector partnerships are fueling investments in the USVI's infrastructure that will bolster the marine tourism industry. For one, the Virgin Islands Economic Development Authority is working with VIPCA on over half a million dollar proposal for 100 new transient moorings and restoration of another 100 day charter moorings territory-wide. The first 35 of these moorings will be available in 2019. Secondly, is an improvement in customs facilities, Third, VIPCA's Marine Apprentice 'on the water' scholarship program through the Community Foundation of the Virgin Islands' (CFVI) Marine Rebuild Fund aims to bring more VI captains in the industry. The My Brother's Workshop (MBW)-Marine 'on shore' program educates VI youth about careers in marine maintenance, repair and fiber glassing.
"This past year there has been a shift, not only in international recognition of this secret gem of a charter destination, but also in the U.S. Virgin Islands' own recognition of its marine industry owing its' combination of resiliency, expansion possibilities and scope for employment. The recent growth spurt in the yacht show represents just that!" Oriel Blake, executive director of VIPCA.
Mark Your Calendar for 2019
The USVI Charter Show is now one of the biggest in the Caribbean. One reason is that the territory currently has some of the strongest infrastructure in the region for charter yachts.
"The infrastructure and facilities at IGY's Yacht Haven Grande are world class," says Dare Blankenhorn, co-founder and director of St. Thomas, USVI-based Charter Caribe. "In addition, the current organization and leadership of VIPCA gives a renewed sense of inspiration and motivation."
Said another way, and from a broker standpoint, "this year's show is definitely the best in over a decade," says Trish Cronan, president of the Caribbean Yacht Brokers Association and president of Denaud, Florida-based Ocean Getaways Yacht Charters.
The next USVI Charter Yacht Show will take place November 9-13, 2019. For more information, visit: www.vipca.org
Sponsors of the USVI Charter Yacht show include the USVI Department of Tourism, Yacht Haven Grande, the Gowrie Group, Denison Yacht Sales, Moe's Fresh Market, Cardow Jewelers, Stoli, Captain Morgan, distributed by Bellows International, IGY Marinas, the Charter Yacht Broker Association, La Royale Cosmetics and Harbor Shoppers.
SIDEBAR: USVI CHARTER YACHT SHOW COMPETITION WINNERS
Best Yacht Over 52′ sponsored by Cardow Jewelers – La Reve
Best Yacht Under 52′ sponsored by Cardow Jewelers – Island Hoppin'
Best Yacht Runner Up Over 52′ sponsored by Cardow Jewelers – Shangri La
Best Yacht Runner Up Under 52′ sponsored by Cardow Jewelers – Starfish
Best Crew over 52′ sponsored by Cardow Jewelers – La Reve
Best Crew under 52′ sponsored by Cardow Jewelers – Starfish
Best Tender sponsored by Blue Water Yachting – Blue Gryphon
Culinary Competition with prizes sponsored by La Royale Cosmetics (Orogold)
1st Appetizer – Daniela Drescher – Shangri La
2nd Appetizer – Mecheala Kremer – Flotation Therapy
1st Entree – Johann Roebert – Lady Sharon Gale
2nd Entree – Daniela Drescher – Shangri La
1st Dessert – Katie Saunders – Yes Dear
2nd Dessert – Juliana Leone – Tabula Rasa
Honorable Mention – Kristi Marquart – Genesis ($100 Gift Cert from Buddha Sushi)
CYBA Save the Blue – Water Competition sponsored by Charter Yacht Broker's Association
1st Blue Pepper
2nd Anastasia
3rd Genesis
Best Themed Yacht sponsored by Blue Water Yachting – La Reve
Best Stoli Cocktail sponsored by Stoli – Sta Ana
Best Captain Morgan Cocktail sponsored by Captain Morgan – Island Hoppin'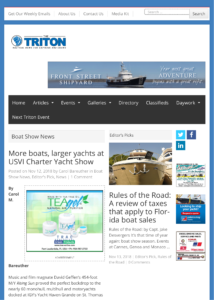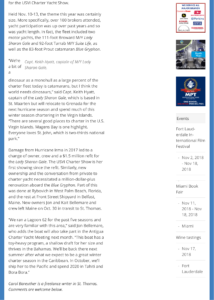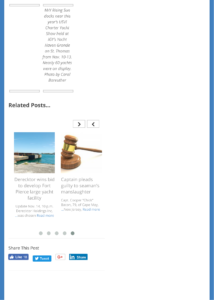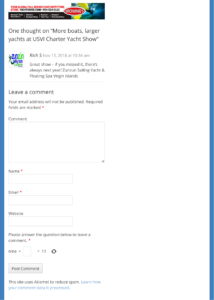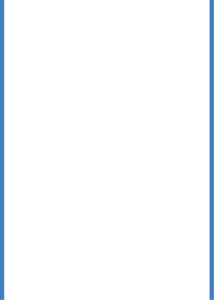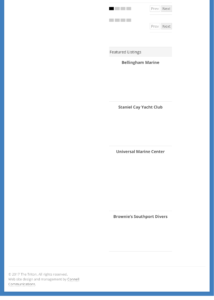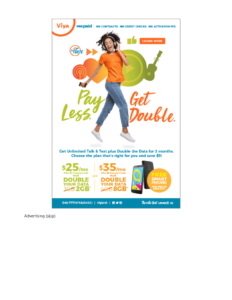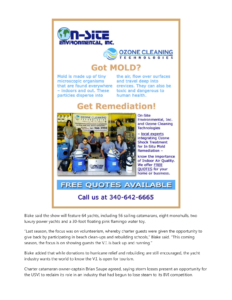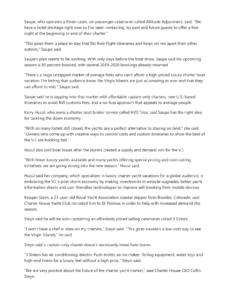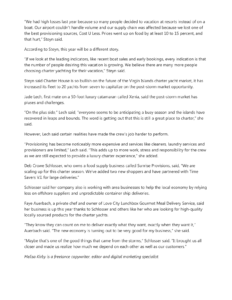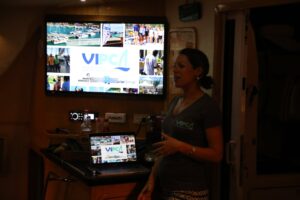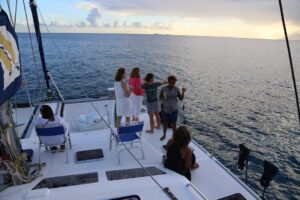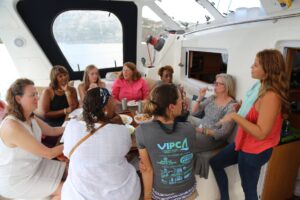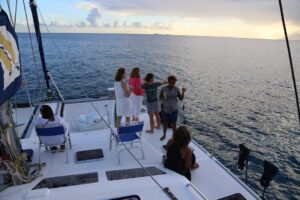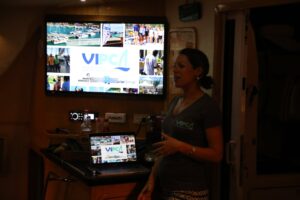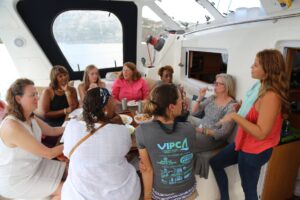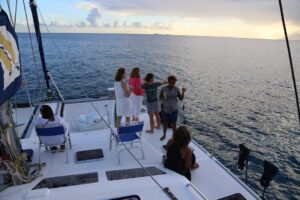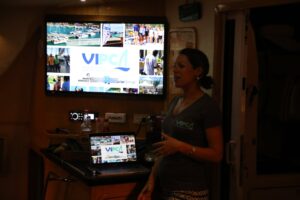 This weekend VIPCA hosted 5 marine journalists and presented the https://youtu.be/ilswpsupmC4 "VI Yachting Still Nice" video.
Articles are to be written in SAIL, SAILING, USA Today, Scuba Diver Life, Dive Training Magazine – if you would like to contribute any photos or quotes please email them to info@vipca.org with many thanks!
Many thanks to Steve, Bonnie and Brie with Paradigm Shift and to Susan and Don with Red Hook Dive Center for hosting the press and showcasing what we have to offer on the water in the USVI.