VIPCA MARINE APPRENTICESHIP
NOTE: 2023 Application is now closed with all places filled.
VIPCA established a 501(c)(3) charity arm called the Marine Rebuild Fund (MRF) with the aim of boosting VI employment opportunities in the marine industry by creating marine education training / development programs. MRF is fiscally sponsored by Community Foundation Virgin Islands (CFVI). MRF raises funding year-round for the annual five week intensive "Marine Apprenticeship" which provides training in the marine industry to young adults from St. Thomas, St. John and St. Croix in partnership with Cruz Bay Watersports. VIPCA is recognised by the USVI Department of Labour as an Eligible Training Provider, and the 12-month program is recognised by DOL as a Registered Apprenticeship titled "Able-seaman". The training includes:
5 day sailing course at St Thomas Yacht Club

Sail and power-boat operation with passengers including seamanship, upkeep and customer service
Swimming
SCUBA diving
First Aid and CPR (certification)
Boating Safety (certification)
Navigation, Rules of the Road and other theory
Marina and dock management
Charter Vessel Maintenance and Charter Business Operation
Technical skill and proficiency on diesel engines, outboards, electrical systems, plumbing
US Coast Guard - half-a-day at the MSD and onboard a coastguard vessel
Five-day STCW Basic Training (Standards of Training and Certification of Watch-keeping) worth $1200 per student.
A mentorship and scholarship program follows these apprentices to careers as captains and crew with VIPCA's continued support of their careers being made successful in the Marine Industry.
Any student of the 5-week VIPCA Marine Apprenticeship, after 360 days sea-time, could qualify to be a certified Operator of an Un-inspected Passenger Vessel (OUPV) Captain. Continuation of training from the VIPCA Marine Apprenticeship can be fully funded with any graduate entering the 12-month paid work placement for accruement of sea time before being sponsored in sitting the OUPV captains course. This year-round opportunity may commence as soon as the student is ready for employment prior to or after the 5-week program in July.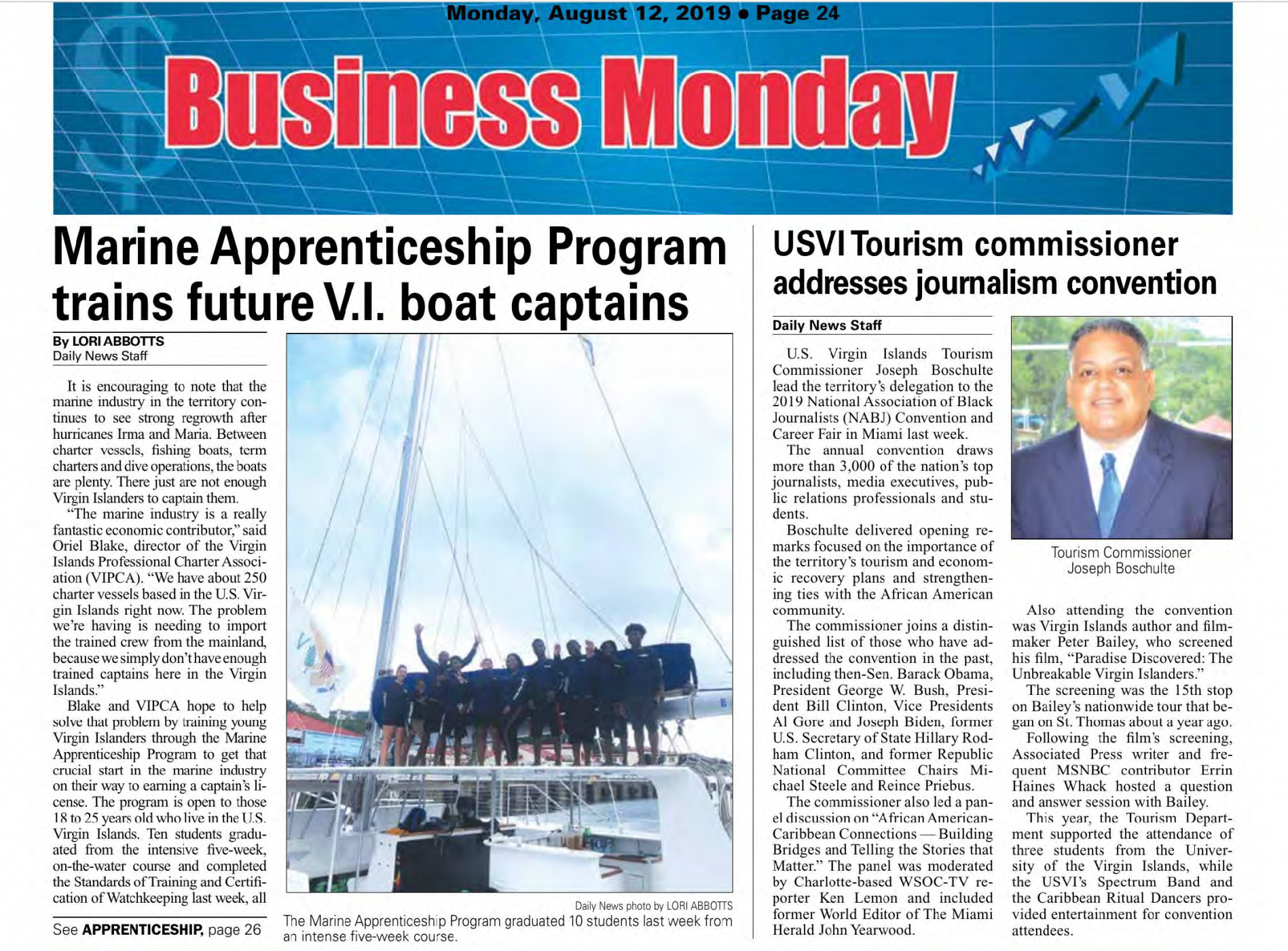 Sponsor A Marine Apprentice
You can sponsor a student for $2,500 for a 5 week intensive on-the-water training including the STCW certification which is itself worth $1,200 and permits graduating students to work immediately onboard a vessel in international waters. Donate to Community Foundation of the Virgin Islands and specify that your donation is for the "Marine Rebuild Fund"